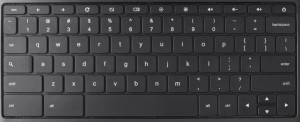 WHERE THE HELL IS THE PRINT SCREEN BUTTON?
That's what I was thinking earlier.  So with your shiny new Chromebook you also get a slightly new keyboard layout…minus the Print Screen button.  So how do you get a screenie?

  Meet this little fella, he resides above your number 6 key and is designated as the "Next Window" key.  He also doubles up as a printscreen key:
Hit CTRL +

 (or F5 if you are using a normal keyboard) and you will see a little popup in the corner of the screen as below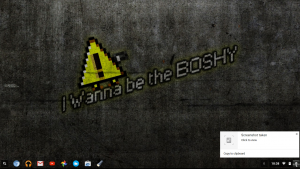 Want to take a screenshot of part of the screen?
Hit CTRL + SHIFT + 

(or F5 if you are using a normal keyboard) and the mouse cursor will change to a + sign.  Click and drag the box around the area you wish to capture.  Release the mouse button and the screenshot is complete.
Chrome OS stores the screenshots in your Downloads folder.
If this has helped you in any way please let me know.  Tweet @_BenjaminPeters or buy me a beer!